Wednesday, May 9, 2018
Media Contact:
Bethany Khan ▪ BKhan@culinaryunion226.org ▪ (702) 387-7088

Las Vegas casino workers to hold Citywide Strike Vote on May 22
Las Vegas, NV – Members of UNITE HERE's Culinary and Bartenders Unions will hold a strike vote on Tuesday, May 22, 2018 at the Thomas & Mack Center of the University of Nevada-Las Vegas. Union contracts covering 50,000 union workers expire on June 1, 2018 at 34 casino resorts on the Las Vegas Strip and Downtown Las Vegas, including properties operated by MGM Resorts International, Caesars Entertainment Corporation, Penn National, Golden Entertainment, Boyd Gaming, and other companies.
On May 22, voting will take place in two sessions starting at 10 a.m. and 6 p.m. The public is advised to avoid the Strip and Tropicana Avenue as tens of thousands of union members are expected to attend the two sessions and cast their votes. If a majority of workers vote yes, the union negotiating committee will be authorized to call for a strike at any time after the contract expires and workers can walk out on strike starting as soon as the morning of June 1, 2018.
Members of the Culinary and Bartenders Unions who will be participating in the May 22 strike vote include: bartenders, guest room attendants, cocktail servers, food servers, porters, bellman, cooks, and kitchen workers at the casino resorts on the Strip and Downtown Las Vegas.
"Over eight decades, casino workers in Las Vegas have been faced with the same decision: Show up or give up. You either show up and fight for what you deserve, or you give up and take whatever the company gives you," said Geoconda Argüello-Kline, Secretary-Treasurer for the Culinary Union. "On May 22, thousands of union members will show casino employers that workers are going to fight for security and that they are not going to be left behind as companies are making record profits and getting windfall tax breaks."
"We are demanding an end to harassment in the workplace. Casino corporations cannot continue to normalize sexual misconduct by high rollers and customers in Las Vegas," said Jocelyn Cegbalic, a cocktail server at the Rio, a Caesars Entertainment property. "The company must take responsibility and work with the Culinary Union to fight sexual harassment and keep us safe. I always do my best to provide excellent service, but I shouldn't have to endure harassment -- or worse -- from guests who think they can abuse us just because they are on vacation."
"I am going to vote YES to authorize a strike because we are not going to sit back and let casino companies outsource our jobs to robots," said Carlos Martinez, a pantry worker at the Mirage, an MGM Resorts International property. "Technology can be assistive in the workplace, but workers should have a voice in that and additional job training. The company needs to invest in human capital and treat us with dignity."
The Culinary and Bartenders Unions have proposed new contract language to provide greater measure of security for members including workplace safety, sexual harassment, subcontracting, technology, and immigration. In addition, the Union's economic proposal seeks to provide workers a fair share of the employers' enormous anticipated cash flows and Trump tax windfalls.
In 1984, thousands of Culinary Union members went on a citywide strike across the Las Vegas Strip for 67 days which crippled in the Las Vegas hospitality industry until contracts were settled. The last Culinary Union citywide strike vote was in 2002 when 25,000 workers packed the Thomas and Mack and an overwhelming majority voted yes to authorize a strike.
The Culinary and Bartenders Unions are encouraging Nevada locals, elected officials, political candidates, and tourists to support workers by patronizing hotels and casinos in case there is a labor dispute on or after June 1, 2018. In an event of a strike, please do not cross picket lines.
The Culinary Union, Nevada's largest union, maintains www.VegasTravelAlert.org, a website intended as a service for meeting and convention planners and all other travelers who need to know whether labor disputes could affect their plans in Las Vegas. The website is updated with information about actual and potential labor disputes affecting Las Vegas casinos.
Labor contracts for the below 34 casino resorts expire on midnight on June 1, 2018: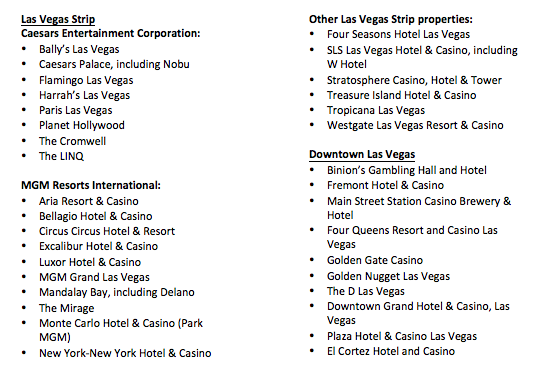 --
ABOUT THE CULINARY UNION:
Culinary Workers Union Local 226 and Bartenders Union Local 165, Nevada affiliates of UNITE HERE, represent over 57,000 workers in Las Vegas and Reno, including at most of the casino resorts on the Las Vegas Strip and in Downtown Las Vegas. UNITE HERE represents 270,000 workers in gaming, hotel, and food service industries in North America.
The Culinary Union, through the Culinary Health Fund, is one of the largest healthcare consumers in the state. The Culinary Health Fund is sponsored by the Culinary Union and Las Vegas-area employers. It provides health insurance coverage for over 143,000 Nevadans, the Culinary Union's members and their dependents.
The Culinary Union is Nevada's largest immigrant organization with over 57,000 members - a diverse membership that is approximately 55% women and 54% Latino. Members - who work as guest room attendants, bartenders, cocktail and food servers, porters, bellmen, cooks, and kitchen workers - come from 173 countries and speak over 40 different languages. The Culinary Union has been fighting for fair wages, job security, and good health benefits for working men and women in Nevada for 83 years.
CulinaryUnion226.org / @Culinary226
https://www.prnewswire.com/news-releases/las-vegas-casino-workers-to-hold-citywide-strike-vote-on-may-22-300645815.html